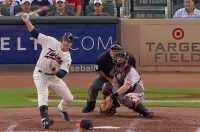 Here is the latest Minnesota, North Dakota and South Dakota sports news from The Associated Press
ANAHEIM, Calif. (AP) – The Minnesota Twins tied a franchise record with eight home runs – including two apiece by Miguel Sano and Jonathan Schoop – in a 16-7 victory over the Los Angeles Angels. It is the third time in franchise history and second time this season Minnesota has had eight homers.
ST. PAUL, Minn. (AP) – Mike Modano has decided to return to his NHL roots in Minnesota. The Hall of Fame center was named executive adviser to Minnesota Wild owner Craig Leipold and president Matt Majka. It is a newly created position that Modano will assume on Sept. 1. He played the first four of his 21 seasons in the league with the North Stars before the franchise moved from Minnesota to Dallas in 1993. With the Wild, Modano will focus on sales, corporate partnerships and community relations.
OMAHA, Neb. (AP) – Jordan Kozicky and Eli Wilson each drove in two runs and Minnesota upset top-seeded Indiana 9-4, knocking the Hoosiers out of the Big Ten Tournament with back-to-back losses. Kozicky and Wilson helped power Minnesota's three-run fifth inning by driving in runs. Wilson then made it a 7-4 game by driving a home run over the left field fence. Wilson finished with three hits for the fourth time this season.
NEW YORK (AP) – It's been a busy offseason for the WNBA with big names changing places, a new commissioner and a few injuries to some of the sport's greatest players. The league will tip off its 23rd season on Friday with many teams hoping to win the championship this year.
AP-WF-05-24-19 0833GMT