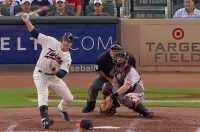 Here is the latest Minnesota, North Dakota and South Dakota sports news from The Associated Press
MINNEAPOLIS (AP) – Karl-Anthony Towns had 25 points and 16 rebounds, Andrew Wiggins scored 23 and the Minnesota Timberwolves improved to 2-0 since trading Jimmy Butler with a 107-100 victory over the New Orleans Pelicans. Jeff Teague added 14 points and 14 assists for the Timberwolves.
LEXINGTON, Ky. (AP) – PJ Washington set a career high with 25 points and had a season-best seven rebounds, Tyler Herro added 18 points and No. 10 Kentucky rolled over North Dakota 96-58. The Wildcats finally got the dominant effort they sought after losing to Duke and scraping by Southern Illinois last week. They had to shake off an initial back-and-forth with the Fighting Hawks, who led 13-12 before Washington's 3-pointer put Kentucky ahead to stay.
NEW YORK (AP) – The NFL has moved the Chargers at Steelers game on Dec. 2 to prime time, replacing the 49ers at Seahawks matchup originally schedule for Sunday night. San Francisco-Seattle will move to 4:25 p.m. EST on Fox.
MINNEAPOLIS (AP) – The icy atmosphere around the Minnesota Timberwolves may be warming up now that Jimmy Butler has been traded to Philadelphia. The Wolves are welcoming Robert Covington, Dario Saric and Jerryd Bayless. Covington and Saric in particular are expected to complement Minnesota's All-Star Karl-Anthony Towns. Both were starters in Philadelphia and have the versatility and defensive skills that coach Tom Thibodeau likes.
AP-WF-11-15-18 0931GMT