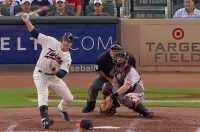 Here is the latest Minnesota, North Dakota and South Dakota sports news from The Associated Press
MINNEAPOLIS (AP) – Michael Conforto went 4 for 4 and drove in the go-ahead run with a two-out single in the fifth inning, giving the New York Mets enough to hang on for a 3-2 victory over the Minnesota Twins. Conforto even made the defensive play of the game, a graceful leaping grab at the top of the wall in left-center to end the third with a runner on and take away an extra-base hit from Twins slugger Nelson Cruz. Cruz ended the game against Mets closer Edwin Díaz with a bases-loaded foul popup.
MINNEAPOLIS (AP) – The Minnesota Twins have placed center fielder Byron Buxton on the seven-day injured list for players with concussion-like symptoms, just as first baseman C.J. Cron and left fielder Eddie Rosario returned from their injuries. The Twins also designated right-handed reliever Mike Morin for release or assignment. Buxton was hurt three days ago while making a head-first, diving catch of a sinking line drive. He was sidelined for 13 games last month with a bruised right wrist.
ST. PAUL, Minn. (AP) – The Minnesota Wild have re-signed three restricted free agents: forwards Ryan Donato and Nico Sturm and defenseman Carson Soucy. Donato, a natural center who mostly played left wing after arriving from Boston, received a two-year, $3.8 million contract. He had four goals and 12 assists with 64 shots in 16 games for the Wild last season after the trade with the Bruins. Sturm and Soucy got one-year, two-way deals.
EAGAN, Minn. (AP) – Minnesota Vikings running back Roc Thomas has been suspended for the first three games of the regular season for violating NFL policy on substances of abuse. The league announced the punishment the week before training camp begins. Thomas can participate in preseason practices and games. If he makes the team he'd be eligible to return to action Sept. 23. Thomas was sentenced to three years of probation in May after pleading guilty to fifth-degree felony possession of marijuana.
AP-WF-07-17-19 0832GMT