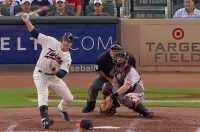 Here is the latest Minnesota, North Dakota and South Dakota sports news from The Associated Press
UNDATED (AP) – The spotlight of the NCAA Tournament shifts to Zion Williamson and No. 1 overall seed Duke. Along with the other 31 teams playing in first-round games Friday. But there won't be more attention on anybody than the Blue Devils' star freshman, who gets to open against North Dakota State in his home state of South Carolina.
UNDATED (AP) – Michigan State survived against a resilient Bradley team, and now the No. 2 seed Spartans must play Minnesota. Yes, really. These two familiar foes are meeting in the second round of the East Region, the earliest matchup ever among Big Ten teams in the NCAA Tournament. The only time two Big Ten teams have played before the regional finals was in 1980, when Purdue beat Indiana in the round of 16.
COLUMBIA, S.C. (AP) – Duke coach Mike Krzyzewski said injured 6-foot-11 center Marques Bolden will return for the top-seeded Blue Devils' NCAA Tournament opener against North Dakota State on Friday while guard Jack White will miss the contest. Bolden was out for the Atlantic Coast Conference Tournament last week with a sprained knee. Krzyzewski said Bolden has practiced well and plans to play. White hurt his hamstring in the win over Florida State in the tournament finals.
STARKVILLE, Miss. (AP) – Mississippi State has earned a No. 1 seed in the NCAA Tournament for a second straight year and is now trying to embark on a third straight trip to the national championship game. It's a remarkable run for a program that was fairly mediocre as recently in 2013. The only thing the Bulldogs haven't accomplished in the recent run is a national title. They lost the NCAA championship game to South Carolina in 2017 and Notre Dame in 2018.
AP-WF-03-22-19 0834GMT