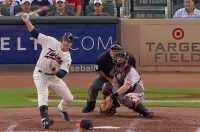 Here is the latest Minnesota, North Dakota and South Dakota sports news from The Associated Press
ST. PAUL, Minn. (AP) – John Gibson made 37 saves for his second shutout of the season, Adam Henrique and Rickard Rakell scored 11 seconds apart in the first period and the re-tooled Anaheim Ducks snapped a franchise-record 12-game losing streak by beating the Minnesota Wild 3-0. Brian Gibbons added his second goal of the season for Anaheim, which made four trades in the previous three days.
ST. PAUL, Minn. (AP) – The Minnesota Wild have acquired center Victor Rask from the Carolina Hurricanes for left wing Nino Niederreiter, in a swap of underperforming but still-young players on long-term contracts. The 25-year-old Rask has one goal and five assists in 26 games this season for the Hurricanes. He's in the third year of a six-year, $24 million deal. The 26-year-old Niederreiter has nine goals and 14 assists in 46 games this season for the Wild. He's in the second year of a five-year, $26.25 million deal.
TULSA, Okla. (AP) – Kevin Obanor and D.J. Weaver combined for 55 points and Oral Roberts held off South Dakota for a 77-74 victory. The 6-foot-8 freshmen forwards from Houston each had career highs in the win. Obanor made two free throws to give Oral Roberts a 77-72 lead with 1:04 to play. Stanley Umude missed a potential game-tying 3 with five seconds left.
MINNEAPOLIS (AP) – Minnesota Lynx star Maya Moore's availability for the coming season is uncertain. Lynx coach and general manager Cheryl Reeve says the team has been "in close contact" with Moore and together will decide how to handle her status for 2019. Reeve's statement followed a report by Minneapolis TV station WCCO that Moore was considering not playing for the Lynx this year. Moore took the winter off from international competition, citing a taxing 2018 season. The new season begins May 24.
AP-WF-01-18-19 0932GMT