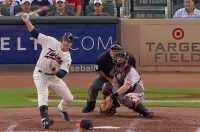 Here is the latest Minnesota, North Dakota and South Dakota sports news from The Associated Press
MIAMI (AP) – Newly acquired Twins reliever Sam Dyson blew a three-run lead in the ninth inning, then Harold Ramirez hit a leadoff homer in the 12th that sent the Miami Marlins over the Twins 5-4. The AL Central-leading Twins have been revamping their bullpen after watching a whopping lead over Cleveland dwindle in the last month. Minnesota got reliever Sergio Romo in a trade with Miami over the weekend and acquired Dyson from San Francisco in a deadline-beating deal Wednesday.
EAGAN, Minn. (AP) – The Minnesota Vikings defense has six players who have been to the Pro Bowl and only one new starter on a well-regarded scheme that has remained largely unchanged entering a sixth season under coach Mike Zimmer. This group ought to have a lot less work to do in training camp than most units in the league, but Zimmer won't buy that. He expressed his disappointment with the lack of intensity shown in practice so far by his proud, experienced group. Safety Harrison Smith says the coach is right.
MINNEAPOLIS (AP) – The Minnesota Twins will rely on a largely familiar roster for the stretch run with the exception of a few potentially valuable additions to the bullpen. Four days after acquiring Sergio Romo, the Twins got another veteran right-handed reliever in Sam Dyson with a deadline-beating deal with San Francisco. The Twins sent three minor leaguers to the Giants.
AP-WF-08-02-19 0834GMT