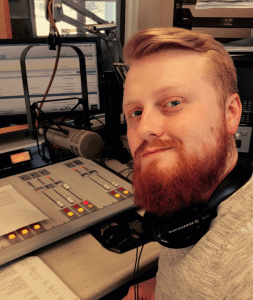 Monday -- 12:00 PM - 05:59 PM
Tuesday -- 12:00 PM - 05:59 PM
Wednesday -- 12:00 PM - 05:59 PM
Thursday -- 12:00 PM - 05:59 PM
Friday -- 12:00 PM - 05:59 PM
I am a small town guy from the south specially the Appalachian Mountains area of Southwest Virginia.  Normally, it doesn't take people long to realize that I am not originally a Minnesotan which is usually followed by the question "How did you end up here?" To make a long story short, the answer is a few years ago I got engaged and my fiancée Jasmin and I decided it was time to expand our horizons and careers. That search brought us out west from Virginia. That was a move we have not regretted at all! She is now my wife and we love it here. I am currently pursuing a degree in Marketing and Communications which goes hand in hand with my love for radio.
So how did I get into radio broadcasting? Right out of high school I was offered a job a local radio station for only one day a week. That grew into a daily on air shift and sports coverage. I fell in love with the business and haven't looked back. My love for music, pop culture, and trending topics makes me look forward to talking to you every day. I love all things country music whether it's classics or new country and everything in-between! In addition to being a huge music fan I am also a proud sports fanatic! When I am not on the air I am usually glued to a sporting event whether it be basketball, baseball, or football. This is another reason radio broadcasting was calling my name before I even knew it. I grew up playing sports and now I get to bring that love of sports out on the radio!